Published on October 21, 2022
–
Updated on November 22, 2022
Mayra MANRIQUE ORTEGA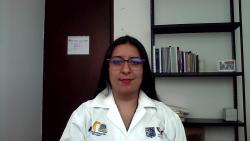 Autonomous University of Campeche, Mexico
Visiting Scholar invited by research center
GEC
.
Stays from October 15 to November 15, 2022.
Curriculum Vitae
Research project
Characterization of built cultural heritage materials by non-destructive techniques in the laboratory
This invitation is part of the H2020 project SCORE in which des secondments of Mexican researchers are planned but not founded. In SCORE an important aspect to be developed is sharing knowledge and skills of the different partners. This secondment of Mayra Manrique, expert in spectrometric techniques for the characterisation of archaeological materials, will allow to set up an experimental procedure in CY to characterise the restoration materials that will be developed in SCORE project. These techniques, employed at "Laboratorio Nacional de Ciencias para la Investigación y Conservación del Patrimonio Cultural " will be applied particularly to improve the restoration mortars that CY proposed to formulate. Dr Manrique will teach courses about sustainable restoration of cultural heritage and she will collaborate with other members of imat.